LED Starlit White Dance Floor Hire
Dance Floor For Hire.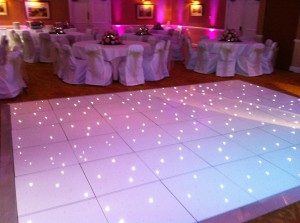 Our dance floors for hire add a spectacular look to your reception, which a choice of white and black we match venues aesthetics and can also provide additional equipment to match your theme.
We provide cost effective hire as we have numerous suppliers thought out the UK. Our dance floors are installed safely with interlocking panels to ensure all guests are safe from trip hazards. The sizes are completely customisable feel free to let us know your size requirements, venue and hire date for an accurate quote.